Those who know me well know I have two areas of particular affection when it comes to clothing: Brooks Brothers and vintage clothes. I worked for Brooks Brothers for a while, and there's no other maker or store that so embodies the great history of American menswear. And vintage clothing – especially from particular eras – is a really neat window into the past, and often to higher quality and better style than is readily available today.
One big question that many people have when they pick up an item at a thrift store, especially when they're planning to resell it, is, "How old is this?" Often, the labels inside a garment can be the easiest clue to figuring that out. This is true in general especially for union labels, the tags sewn into pockets on US-made jackets that were made in unionized workshops. For a good guide to union labels, check out this post at The Fedora Lounge.
I'm going to focus here particularly on Brooks Brothers labels, and especially on those found in suits, jackets, and other tailored clothing. Put This On has already done a good guide to BB shirt labels, as good as I could do. I might try to pull together something on BB ties or shoes later, but for now, we'll stick with tailored clothing.
First, a few key dates you should know about BB's history:
1818-1946: From its founding to 1946, BB was controlled by the Brooks family that started it. It gained a reputation for high-quality clothing at (more or less) reasonable prices.
1946-1988: Through the second half of the 20th century, BB was owned by Julius Garfinckel & Co. (later Allied Stores). This is the era where BB's reputation as the pre-eminent Ivy-League, American "Trad" store was cemented, and quality remained high.
1988-2001: In 1988, BB was sold to British discount retailer Marks & Spencer. The quality of BB clothes in this era took a steep nose dive, and BB lost a lot of its long-term loyal customer base.
2001-Present: In 2001, M&S sold BB to Retail Brand Alliance, a company with Italian ties. In the RBA era, Brooks has gone some of the way to restoring quality that was lost in the M&S era, but they've also moved BB into a slightly more fashion-forward position in the retail-clothing world. This move has further irritated what longtime customers it has left, but it has also probably saved it from extinction.
All right, now onto the labels themselves. We'll go in reverse chronological order, starting with the present day.
Present Era:
Since a few years after the RBA acquisition (starting around 2005 or so?), BB has used royal blue colored, almost square labels that are on the inside chest area, just below the pockets. "Golden Fleece" indicates their highest-quality line made in Italy or New York, while "1818" is the mid-tier line. They introduced the "Regent" and "Fitzgerald" fits around 2007, and renamed the existing, original cut "Madison." The "Milano" fit followed a few years later. If you find stuff with this label, it's at least decent quality.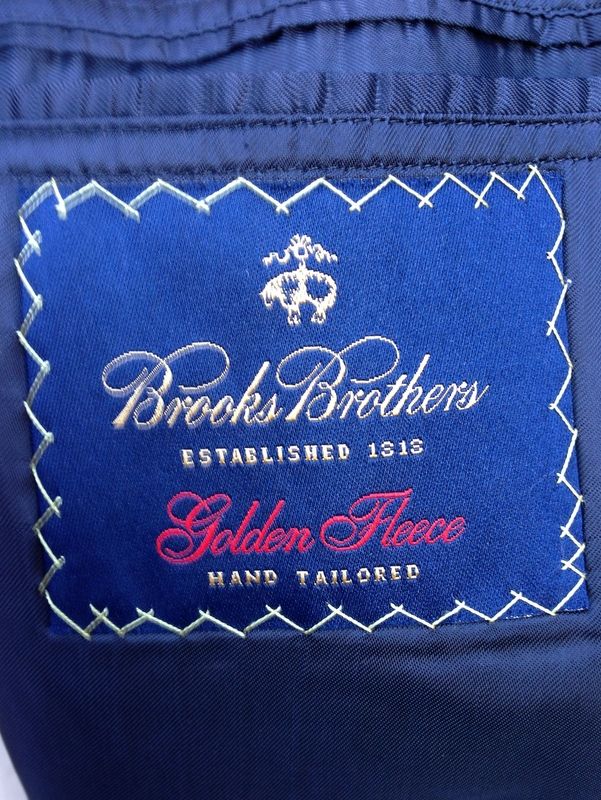 One exception to the generally good quality are the clothes sold in today's "346" line, which are made specifically for BB's factory outlet stores, of lesser quality and sold at a lower price point. Don't confuse this with the earlier "346" line from the 1950s-1970s; more on that below.
Marks & Spencer Era ('90s-early '00s):
In the latter part of the M&S era, and for a few years after the RBA takeover, BB was using labels like this one: Same shape as the labels above, but black, dark blue, or gray with white lettering. When I started at BB in 2007, there were still a few items with this label hanging around, so they were probably phased out sometime in the 2004-2006 era.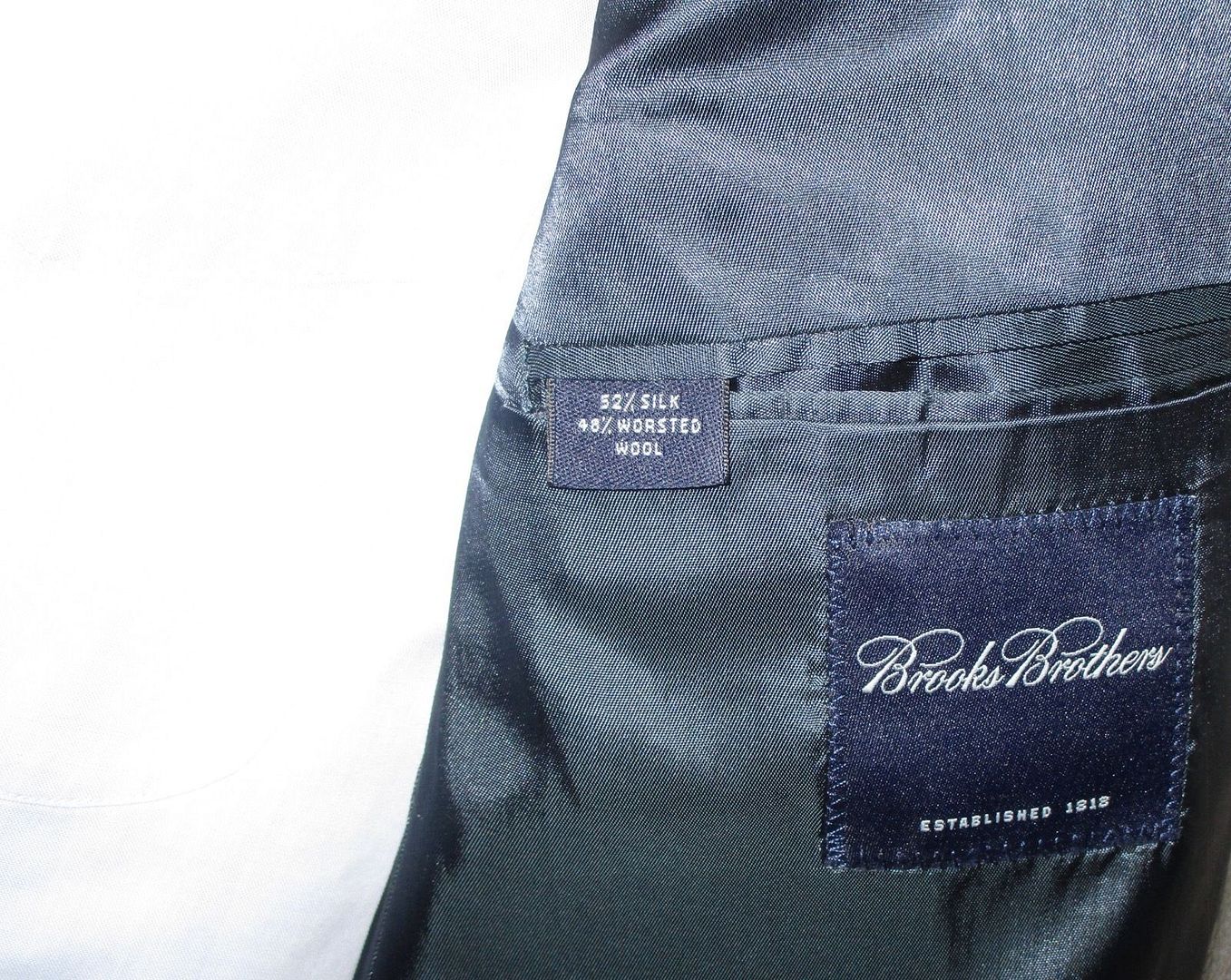 In the mid-90s, most BB labels looked like this: a slightly wider and shorter rectangle, with a sketchy, almost 8-bit version of the Golden Fleece hanging lamb logo, and an overall somewhat crude look.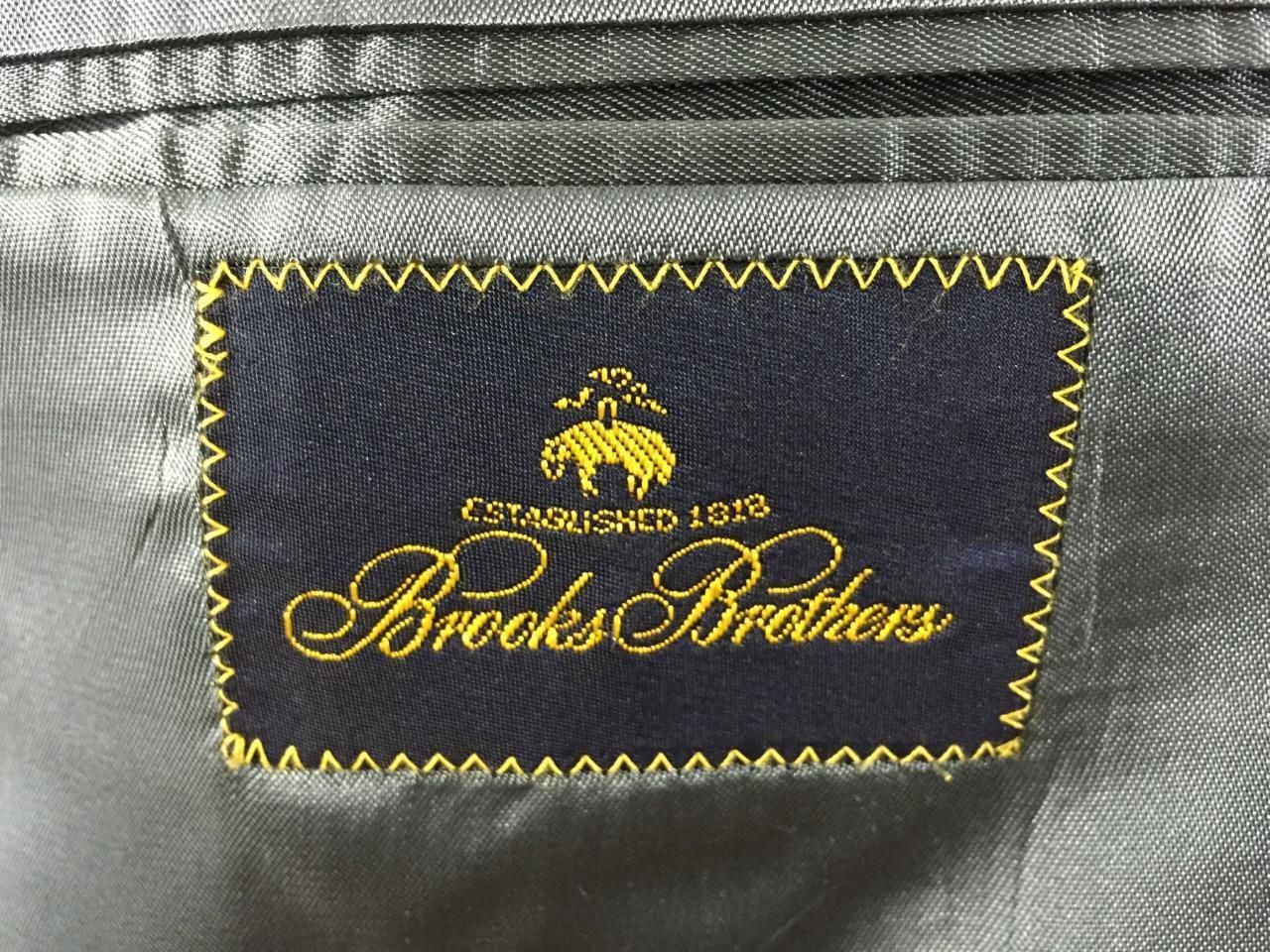 Pre-Marks & Spencer
Prior to the acquisition by Marks & Spencer (and probably for a while thereafter), BB's suit and jacket labels had been a narrow, horizontal rectangle found at the back neck area. They went through some different fonts and colors, but this size and placement persisted for probably 50 years or more.
This is one of the latest versions; with the Woolmark logo, origin statement, and care instructions, it's probably from the late 80s or very early 90s. I believe the "Made In" statement began to be required in 1988, so it's probably after that.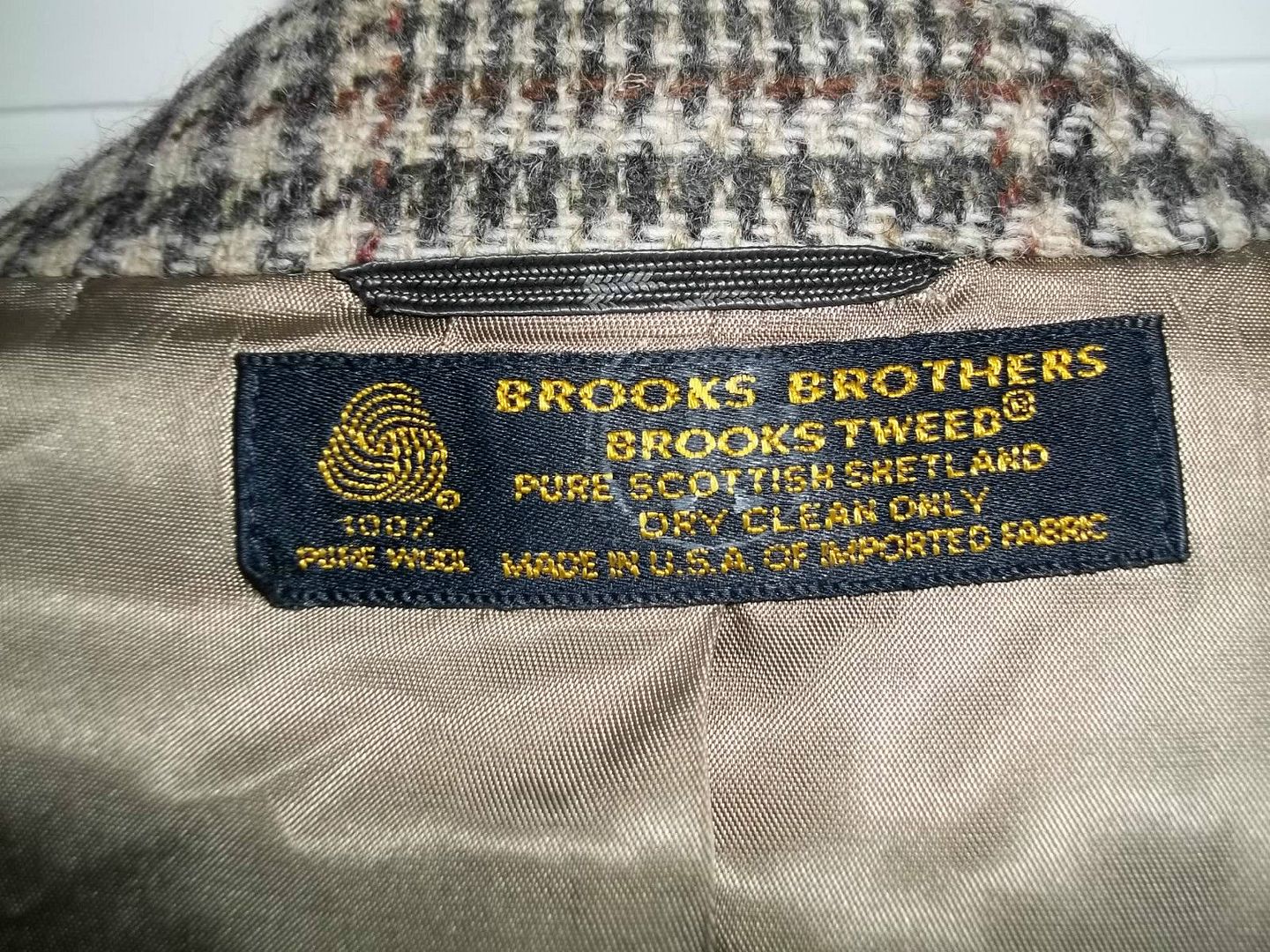 This one, with care instructions but no "Made In" statement, is from between 1972 (when care labels were first required) and 1988. This is basically the 1970s and '80s tag.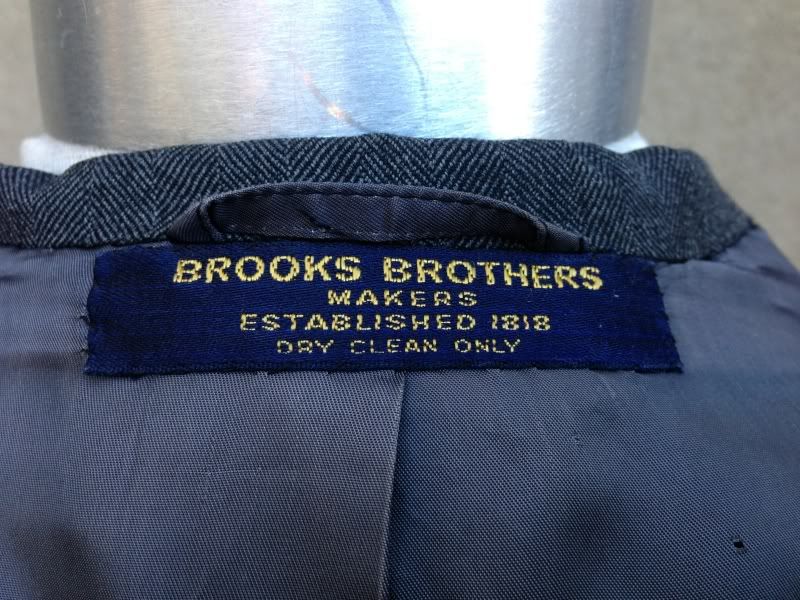 The "Makers" line was BB's mainline product, the line aimed at their bread-and-butter business customers. It was the highest-quality line they made until the introduction of the Golden Fleece line as an upper-level luxury handmade option. I think Golden Fleece was probably introduced sometime in the 70s or 80s, but I'm not sure. Here's a late-80s or 90s version of the GF label.
Below the Makers line, BB had a couple of different entry-level lines aimed at younger men. Prior to 1974 it was the University Shop, but in 1974 BB replaced that with Brooksgate, a more fashion-forward line that made some nods towards then-current fashion: two-button, darted jackets with bigger lapels, flared pants, etc. I don't know when Brooksgate went away, but it still existed at least through 1985.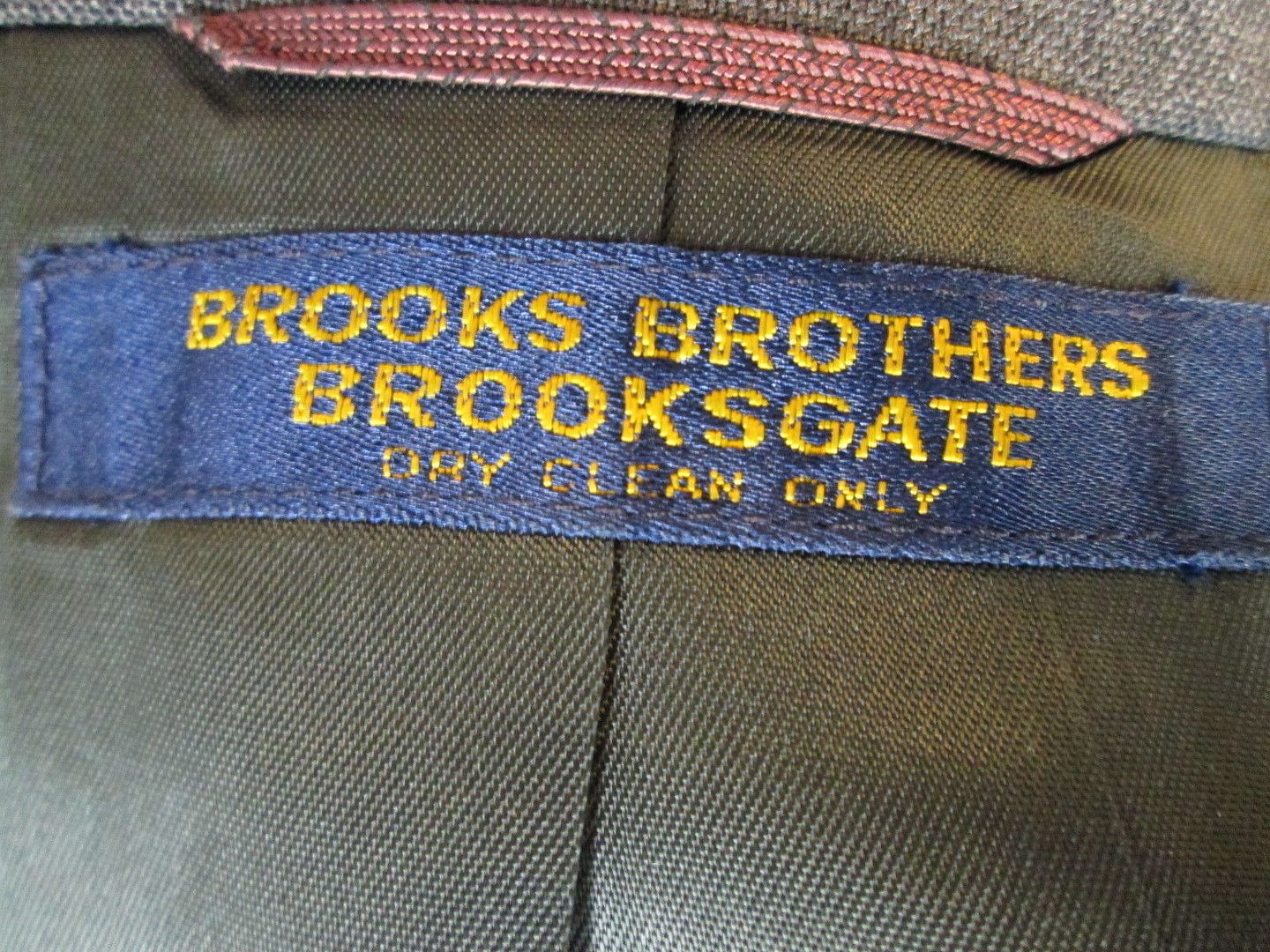 Another entry-level line that lasted quite a while from the 50s or 60s into the 70s was the "old" 346 line (the numbers come from the address of the Madison Avenue flagship store). By modern standards the quality of this line was still quite good, even though it was an entry- or mid-level line. Here is a 70s version of the tag: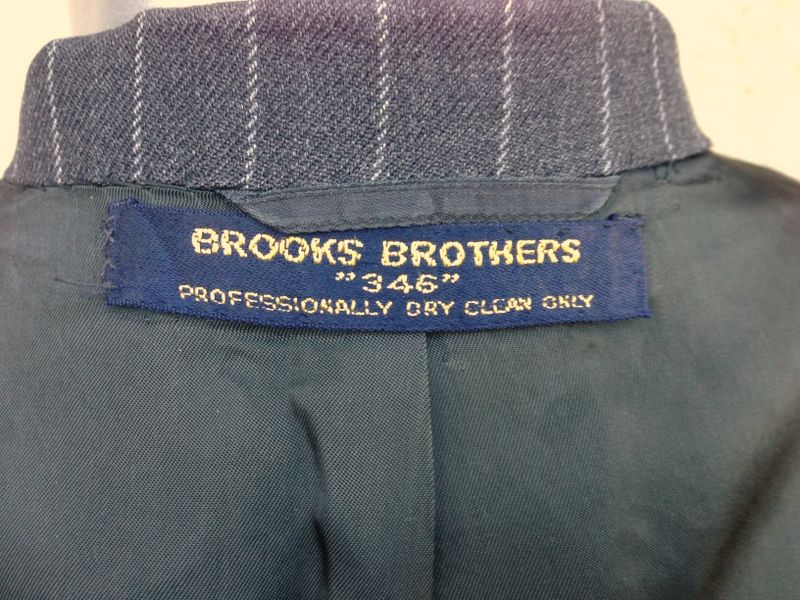 And here is a 60s version: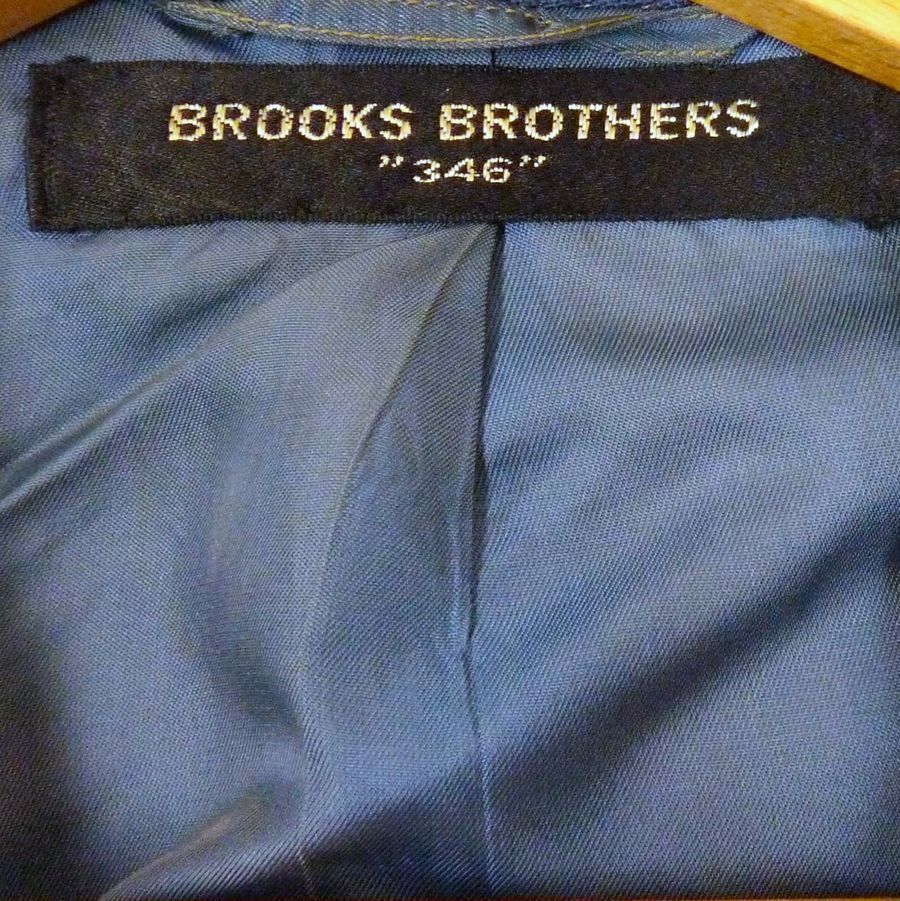 That white-letters-on-black-label format moves us back in time; it was the primary format of BB labels in the 50s and 60s. There were different versions of it for different products: the aforementioned "University Shop" (1957-1974), "Brooksknit," "Brooksblend," and, of course, the mainline "Makers" offering.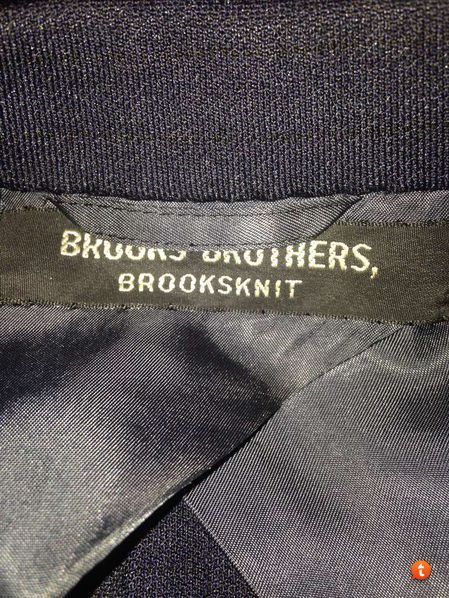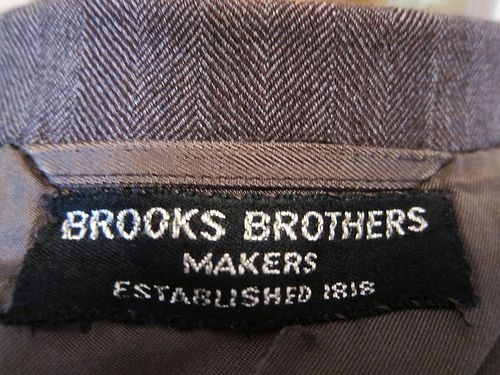 In fact, the white-on-black label format like this seems to go back a lot farther. This one is from a morning coat that's probably from the 1920s, and this "Brooks Brothers/New York" tag is the one I've seen on most jackets and coats from the 20s through the 40s. Sometimes they're brown or olive green, but usually black.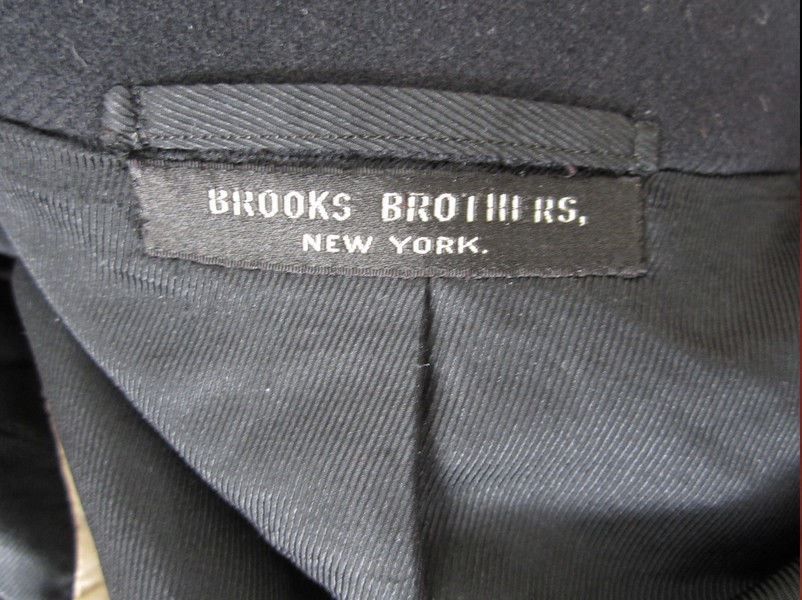 And this one, from an evening tailcoat, with its mention of "Broadway," is almost certainly from before 1915. That's when BB moved its flagship from the last of several stores on Broadway uptown to its present HQ at 346 Madison Avenue.
Finally, Broadway brings us to the oldest Brooks Brothers label I've ever seen. This was on a tailcoat or frock coat that I saw on Ebay a few years ago (infuriatingly, I missed winning it because I didn't set my auction sniper right). Again, the location is a clue to the age – BB opened the store at Broadway and Grand in 1859 and left it to move again in 1870, so this label is from the 1850s or 1860s. What an amazing treasure of American clothing history. Those lines of stitching were done by the same hands that made Abraham Lincoln's clothes.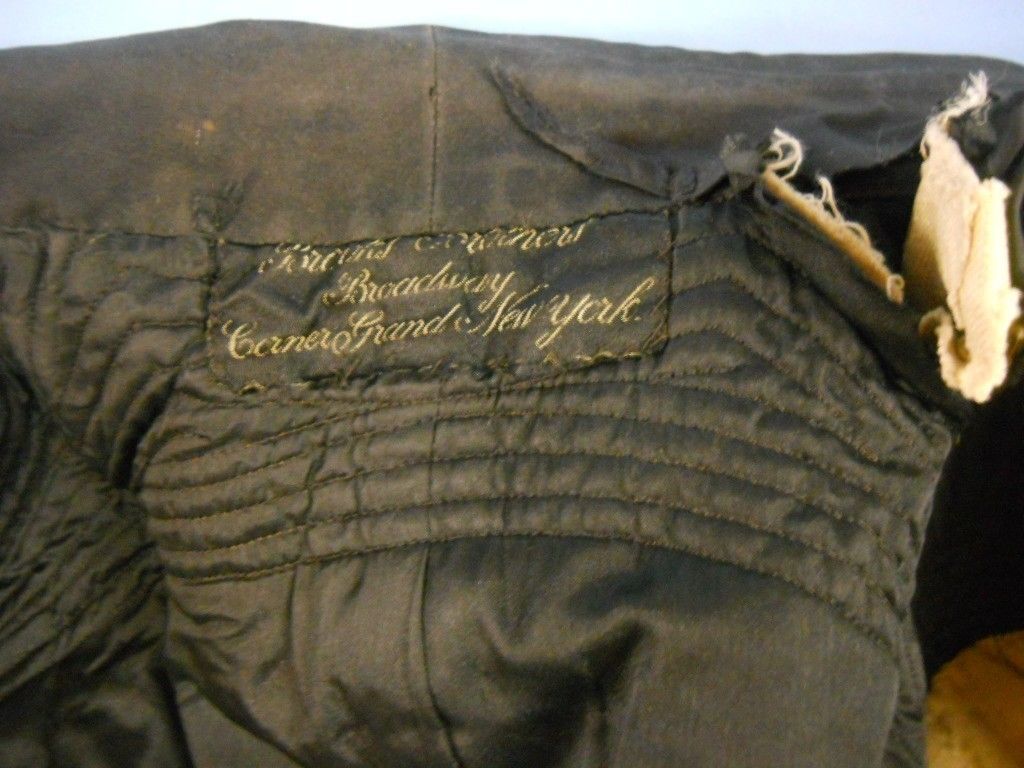 Well, that's it for now. If you have any updates, corrections, or additions to offer, please let me know in the comments or shoot me an email! I'd love to keep refining this and making it more accurate.
If you're interested in learning more about the history of Brooks Brothers, look here and here.